Layout / Map / Scorecards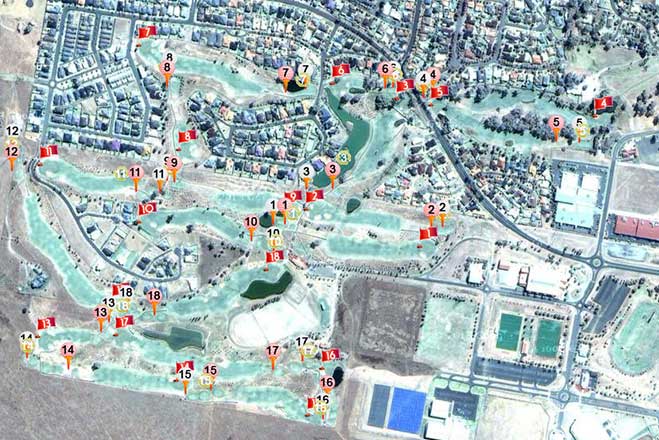 Local Rules & Regulations
Out of Bounds:

Defined by boundry fences and/or white stakes with black tops.

Staked and Small Trees:

Relief must be taken from staked trees and those under 2 club lengths in height which interfere with a player's stance or area of intended swing.

Stones & Kangaroo Marks in Bunkers:

Stones in bunkers are movable obstructions. Relief may be taken if a ball comes to rest in a hole made by a kangaroo.

Tunnel:

The tunnel and its approaches between the 3rd and 4th holes is an immovable obstruction. Relief may be taken in the drop zones at the end where the ball entered.

Windmill between 9th & 10th and Wooden Fence on 11th:

These obstacles are integral parts of the course. No relief without penalty.

Power Lines:

A ball striking power lines, poles or stays, must be replayed without penalty. The poles and stays are immovable obstructions and relief may be taken.

Immovable Obstructions:

Relief may be taken from the following obstructions only if they interfere with a players stance or area of intended swing; all stakes, sprinkler heads, ball washers, rubbish and sand bins, tee signs and markers, directional signs, distance markers, irrigation boxes, retaining walls, steps, cart barriers, shade shelters and concrete gully crossings. Note: No relief can be taken (a) from stakes if the ball lies in a hazard, nor (b) if the obstruction only impedes line of flight, except on a putting green. All obstructions must not be moved.
© Copyright 2018 | Site developed by
Progressive Design Technology